+36 203 137 079
---
Brand new generation of Keysight ENA E5080B network analyzers
03.05.2019 07:15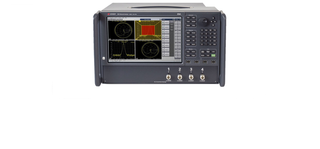 Keysight Technologies, Inc. launched the next generation of network analyzers which deliver reliability and repeatability with best-in-class dynamic range, trace noise and temperature stability, as well as a wide range of software applications, enabling engineers to consistently achieve comprehensive device characterization. Keysight's new E5080B network analyzers deliver next generation features and performance in benchtop form factor. These new analyzers combine built-in pulse generators and modulators, spectrum analysis, and time domain analysis in a single instrument to save time by fully characterizing modern devices without the need for additional test hardware.
Wide range of available models:
2 or 4 ports
Frequency range from 9 kHz to 4.5 / 6.5 / 9/14/20 GHz
Internal bias tees
Top RF parameters:
140 dB dynamic range
Trace noise only 0.0015 dBrms
Measurement speed of 401 points trace 2.2 ms
Stability 0.005 dB / deg C
Fully integrated solution for complex measurement:
Spectrum analyzer on each port
Internal pulse generators
Two internal DC power supplies for DUT
Input / output ports for DC measurements
Measuring applications for characterization of both passive and active components:
Automatic fixture removal

Time domain measurement

TDR

Basic pulsed-RF measurements

Noise figure measurement

Scalar and vector mixer/converter measurements

Gain compression measurements

Measurement of intermodulation distortion

Material measurements and many others
User friendly:
Intuitive 12.1" multi-touch user interface
Depth only 334 mm
Detailed information about the new Keysight ENA E5080B analyzers can be found HERE.
---
---
H TEST Hungary Kft.
Fehérvári u. 75. fsz. 9.
H-9028 Győr
+36 20 2649 208
+36 20 3137 079
+36 96 999 262
Hírlevél
Termékhírek, meghívók szakmai rendezvényekre, szemináriumokra és továbbképzésekre. Elektronikus úton, legfeljebb havi két alkalommal kerül kiküldésre.
© 2019, H TEST a.s. - Minden jog fenntartva
Létrehozott weboldalak eBRÁNA s.r.o. | Készült CMS WebArchitect | SEO a internetový marketing