+36 203 137 079
---
Keysight U2040/53/63 & L2050/60 X-Series Wide Dynamic Range Power Sensors
04.10.2018 13:58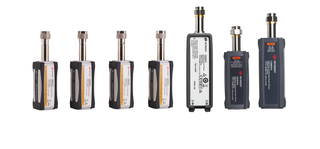 Keysight Technologies introduced a new product line of power sensors. It includes U2040/53/63 & L2050/60 X-Series wide dynamic range power sensors, which offer accurate and repeatable power measurement for any modulated signal. This series comprises five models (four USB-based models and one LAN-based model) and covers a range of –70 to +26 dBm. The U2049XA, the world's first LAN-based sensor 1 with thermal vacuum (TVAC) option, is suitable for distances up to 100 meters and comes with best-inclass long term drift performance.
Key features and benefits
World's widest dynamic range (–70 to +26 dBm) for small signal measurements in wireless chipset and payload testing
Super-fast measurement speed (50,000 readings/sec) enables higher manufacturing throughput
Real-time measurement with zero dead time to ensure every single continuous pulse is measured
Average mode time selectivity feature allows the sensor to measure average and time selectivity average power measurements across the full 96 dB range
Internal zero and automatic calibration saves time and reduces measurement uncertainty
Variable sampling rate up to 1M sample/sec and deep memory up 1Mbytes
Datasheet can be downloaded HERE.
Intuitive BenchVue software is bundled with each X-Series wide dynamic range power sensor. It allows easy measurement start-up upon connection of hardware and launching of software as well as faster setup with built-in radar and wireless presets.
---
---
H TEST Hungary Kft.
Fehérvári u. 75. fsz. 9.
H-9028 Győr
+36 203 137 079
+36 96 999 262
Hírlevél
Termékhírek, meghívók szakmai rendezvényekre, szemináriumokra és továbbképzésekre. Elektronikus úton, legfeljebb havi két alkalommal kerül kiküldésre.
© 2019, H TEST a.s. - Minden jog fenntartva
Létrehozott weboldalak eBRÁNA s.r.o. | Készült CMS WebArchitect | SEO a internetový marketing