+36 203 137 079
---
Keysight´s new full compliance EMC reciever for CISPR and MIL-STD-461 standards
24.01.2019 07:04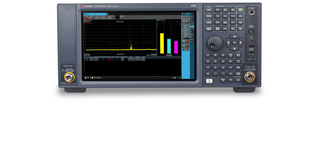 Keysight Technologies has launched a new full compliance EMC test receiver Keysight PXE (model no. N9048B) for testing not only acording to CISPR standards, but also to military standards MIL-STD-461.
The new receiver is available in three versions with a frequency range from 2 Hz to 3.6 / 8.4 / 26.5 GHz. With the new RF preselector and new low noise design, the new receiver has excellent noise level (DANL), amplitude accuracy and sensitivity. The Keysight PXE is also equipped with a new "multi-touch" user interface like other Keysight X-series signal analyzers.
For more information please visit www.keysight.com/find/pxe.
---
---
H TEST Hungary Kft.
Fehérvári u. 75. fsz. 9.
H-9028 Győr
+36 20 2649 208
+36 20 3137 079
+36 96 999 262
Hírlevél
Termékhírek, meghívók szakmai rendezvényekre, szemináriumokra és továbbképzésekre. Elektronikus úton, legfeljebb havi két alkalommal kerül kiküldésre.
© 2019, H TEST a.s. - Minden jog fenntartva
Létrehozott weboldalak eBRÁNA s.r.o. | Készült CMS WebArchitect | SEO a internetový marketing