+36 203 137 079
---
Keysight E36100 Series DC Power Supplies
Product development cycles continue to get faster, and consumers demand an ever-increasing number of DC-powered devices. New personal communication products, computers, wearable electronics, toys, music players, watches, and other DC-powered devices are announced daily. The unrelenting pressure on R&D engineers increases as these devices proliferate.

The NEW Keysight E36100 Series DC power supplies let you power your device via manual front-panel operation, remote soft front panel operation, or with semi-automatic or fully automatic procedures.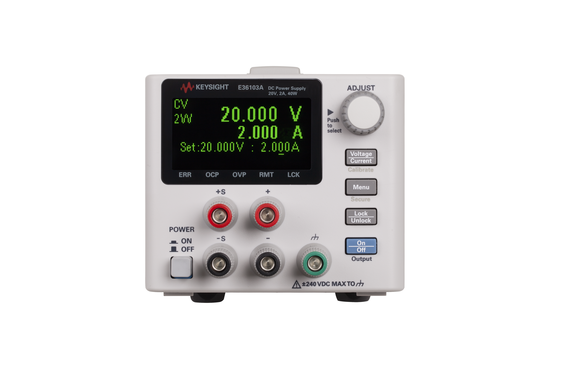 Five new models delivering clean power, excellent regulation, fast transient response and built-in USB and
LAN (LXI Core) interfaces:
E36102A – single-output, 6 V, 5 A, 30 W
E36103A – single-output, 20 V, 2 A, 40 W
E36104A – single-output, 35 V, 1 A, 35 W
E36105A – single-output, 60 V, 0,6 A, 36 W
E36106A – single-output, 100 V, 0,4 A, 40 W

The E36100 Series is the latest addition to Keysight's industry standard family of bench power supplies, backed with Keysight's standard 3-year warranty. Power your DUT with excellent voltage and current programming and readback accuracy. Use the power supply's highly accurate low-current measurement feature for demanding measurements.
Protect your DUT with built-in overvoltage and overcurrent protection, and count on the built-in overtemperature protection to keep your power supply safe.

The clean design of the E36100 Series front-panel lets you become productive with the unit very quickly. The easy-to-use rotary knob and keypad interface allows you to set the output at your desired resolution quickly and easily, with digit-by-digit control. You can store and recall up to 10 complete power supply setups from non-volatile memory in order to quickly change instrument states. The output on/off key quickly turns the output on and off.

Every E36100 Series model ships standard with both LAN (LXI Core) and USB (TMC488). The easy-to-use SCPI (Standard Com-mands for Programmable Instruments) programming language lets you create fast and simple programs with transient response faster than 50 μs and fast command processing time–less than 10 ms. You can also program the instrument with the power supply's Interchangeable Virtual Instruments (IVI) driver.

Product sheet to download HERE.
If you need more instruments connected for more complex tasks, you can also use Keysight BenchVue software. BenchVue software for the PC makes it simple to connect, record and achieve results with your instruments with no programming. BenchVue is an all-in-one application that enables you to:
Visualize multiple measurements simultaneously
Easily log data, screen shots and system state
Recall past state of your bench to replicate results
Export measurement data in desired format fast
Quickly access manuals, drivers, FAQs and videos
Monitor and control bench from mobile devices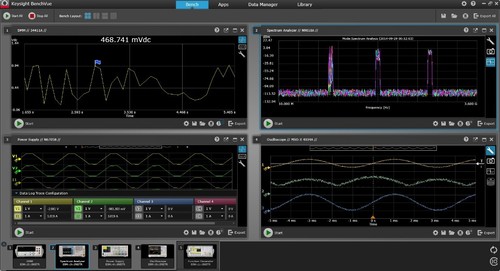 Product sheet of Keysight BenchVue software download HERE.
---
---
H TEST Hungary Kft.
Fehérvári u. 75. fsz. 9.
H-9028 Győr
+36 20 2649 208
+36 20 3137 079
+36 96 999 262
Hírlevél
Termékhírek, meghívók szakmai rendezvényekre, szemináriumokra és továbbképzésekre. Elektronikus úton, legfeljebb havi két alkalommal kerül kiküldésre.
© 2020, eBRÁNA s.r.o.
Created by eBRÁNA s.r.o. | Powered by CMS WebArchitect | SEO a internetový marketing